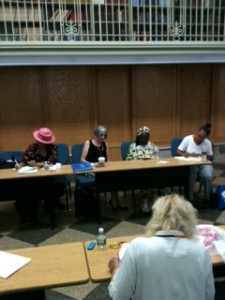 We are approaching our sixth class, and it is remarkable how much the class has grown since day one. We have grown as writers. We have grown in members. But most importantly, we have grown to be like a family.
Every time I come into class, I notice such a distinct familiarity–and joviality–to which each member contributes. So, this week I am going to share with you a story about one of our members' own family.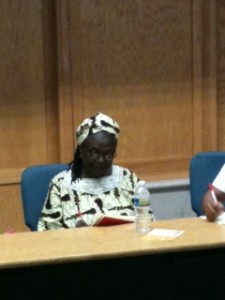 Adeloa James

8/10/2011

Family

We wake up every day hoping and praying that our day is productive, our lives have purpose and meaning, and the night comes with peace.

These, of course, are thoughts of people who have turned the corner of their lives.

Of recent, I have been spending a lot of time with my grand children. As a family we live in different continents, to get together is always a great excitement. Such excitement filled the air yesterday when family in South Africa arrived.

By strange coincidence as some members who haven't seen one another for three years were arriving, grandpa was just leaving. The South Africans were expected at 10:30 am and grandpa was leaving to return home to Guyana at 11 am. Well the South Africans, comprising of a daughter and granddaughter arrived about 11 am after many glitches. Grandpa held his granddaughter for a few minutes, told his daughter, "come and see me in Guyana, there is room for all of you." These words were being said in the midst of loud noises, there were three granddaughters who call one another sisters—"cousin" does not describe the degree of closeness between the two Philadelphia sisters—5 and 3—and the nimble, bossy South African, also 3. Of course everyone at school here knew that Sialta was coming, the teachers and their school friends as well. "Sialta is here" is the refrain.

Adults stand around in awe at the freedom and absolutely unrestrained joy these three little ones were showing us.

Time passed and the arguments began—"this is mummy," no this is "nana," she is my nana. Sialta's logic brought smiles to everyone, "she is mummy because she is my mummy's mummy!"
Joy, happiness, innocence, are the emotions of the day. Fulfillment? Can one lay claim to this as well? Let life continue.
---
Comments are closed.
---